Good Morning!!!
Hopefully this post has scheduled fine as we should be on the road right now on our way down to Devon fingers crossed for a relaxing 2 weeks.
It's time for a new challenge over at
Craft Your Days Away
today, and we also welcome our new DT buddies for their first challenge. The challenge this time round has been set by the lovely Sarah and her challenge is...
It'll soon be fathers day so a great chance to get your fathers day project done but you can do something for any special man!!
Our sponsor this time is our fabulous monthly sponsor...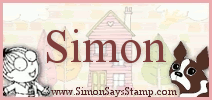 The DT have all come up with the most amazing fathers day and male themed creations so please do chck them out. Here's mine....
I've used the lovely Maurice from
Pollycrafts
, I always love working with Maurice and he looks well cool in his special 'DAD' hat don't you think!!
We do hope you will be able to join us for this fortnights challenge, we can't wait to see your creations.
Thanks for stopping by and have a lovely bank holiday weekend!!!
Hugs
Joanne xxx