Good Morning Everyone!!
Well we went to see The Stranglers last night they were very good, but I must be getting old because it was far too loud...lol. We also enjoyed a lovely meal before hand at one of those chinese buffet places, was very yummy!!
Anyway onto our latest challenge for you over on
Magical Crafts
........
If it's got wings then we'd like to see your creations with them!!
We are being sponsored by our wonderful monthly sponsor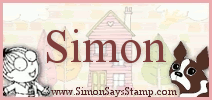 The winner will get $10 to spend in the Simon Says Stamp shop, with p&p paid for by Heidi, how wonderful is that!!
The DT have some wonderful creations to share with you so please do check them out. Sadly our friend and fellow DT member
Shell
has decided to step down from the DT, she will be missed so very much as a part of the DT, but we all wish her all the very best.
Here's my DT card for you.....
RECIPE
Paper - Dovecraft (I believe)
Colouring Medium - Watercolour Pencils
Embellishments - Ribbon, Charm, Flower, Gems and Dragonfly all from stash.
************
We do hope you will join us for the challenge, as always we look forward to seeing your projects.
Enjoy your Sunday and thanks for stopping by!!
Hugs
Joanne xxx